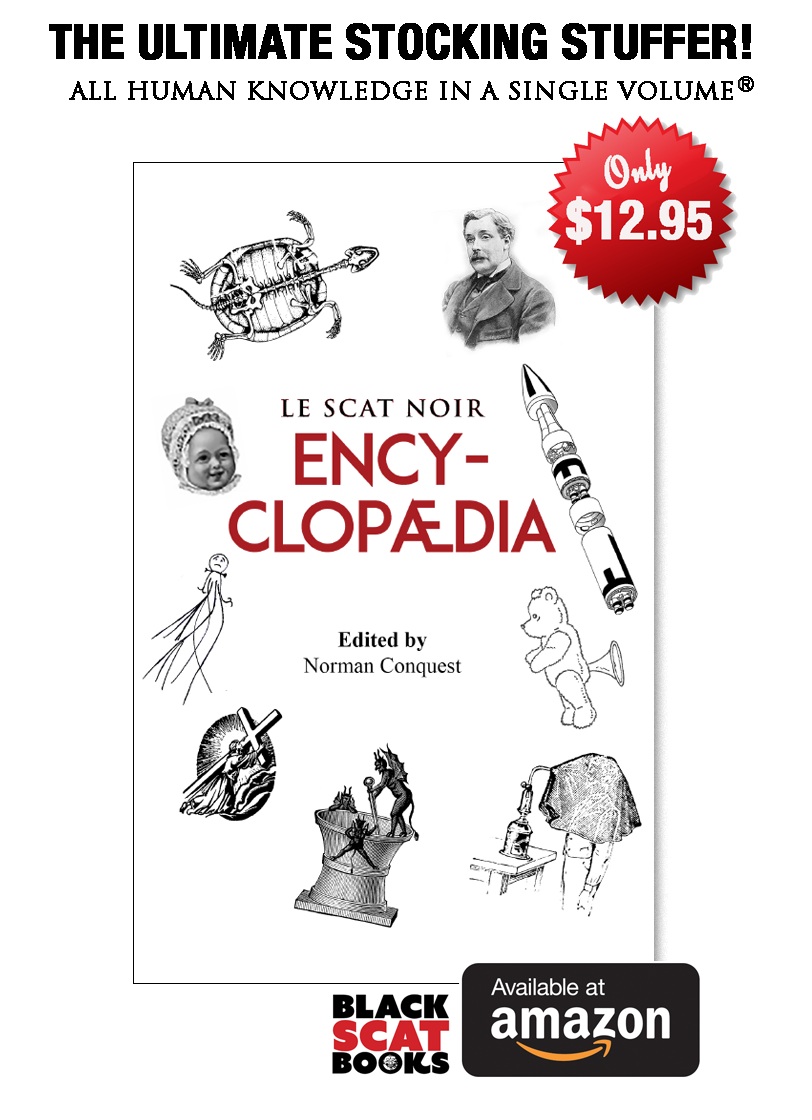 Le Scat Noir Encyclopædia offers "All human knowledge in a single volume." It contains entries from Acrostic to Zwine, and features contributors from around the world—some of whom are distinguished professors at prestigious universities. Others are Nobel Prize winners, while a few have been arrested on felony charges. Discover rare factoids, flash fiction, nubile moon spew, mythological arcana, cabalistic pathogens, pataphysical detritus, scatological schemata, crypto-heuristic scripture, and radical homomorphism. Over 100 pages of profusely illustrated weirdness.
Featuring contributions by Mark Axelrod, Jeff Bagato, Jacques Bekaert, Doktor Bey, Paulo Brito, Adam Levon Brown, Theodore Carter, Brendan Connell, Norman Conquest, Sean Coolican, Catherine D'Avis, Farewell Debut, Edith Doove, Paul Forristal, Ryan A. Forsythe, Peter Gambaccini, Eckhard Gerdes, Amelia Gorman, Thomas Gresham, Charles Holdefer, James R. Hugunin, Harold Jaffe, Richard Kostelanetz, Rachel Kushner, Terri Lloyd, Harry McCullagh, David Macpherson, Opal Louis Nations, Andy O'Clancy, Peter Payack, Caleb Puckett, Jason E. Rolfe, Paul Rosheim, Stephen Silke, Mercie Pedro e Silva, Doug Skinner, Seth D. Slater, Yuriy Tarnawsky, Robert Wexelblatt, Tom Whalen, Gregg Williard, Carla M. Wilson, and D. Harlan Wilson. Edited by Norman Conquest.
My contributions include entries on asemic acrostics, iambic centameter, inflatable prosthetics, quadratic syllogisms, oxymoronic onomatopoeia, and other subjects. It's published by Black Scat Books, and available on Amazon!