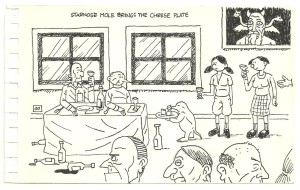 The thirteenth issue of Black Scat Review is out! It is, fittingly, devoted to the subject of superstition. It also contains my short story "Find a Penny," which is also fittingly devoted to the same subject. And I am one of thirteen contributors; the other twelve are: Paulo Brito, Eckhard Gerdes, Harold Jaffe, Soren James, Rick Krieger, Terri Lloyd, Monika Mori, Alice Pulaski, Frank Pulaski, Mylene Viger, Dominic Ward, and Carla M. Wilson. It's edited by Norman Conquest, and Alice Pulaski designed the cover. It is, of course, available from Black Scat Books.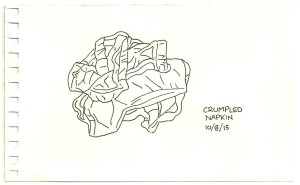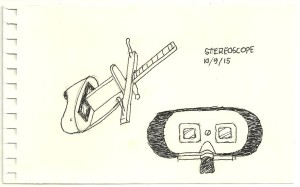 October 26th, 2015 · 2 Comments
Bill Ectric has interviewed me about my translation of The Zombie of Great Peru, by Pierre-Corneille Blessebois, published earlier this year by Black Scat Books. It's over at a site called Red Fez.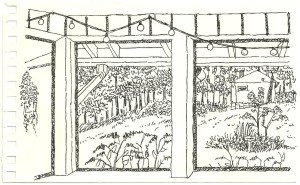 October 12th, 2015 · 3 Comments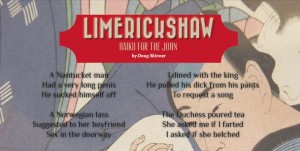 Black Scat Books has just released its eighth broadside, "Limerickshaw: Haiku for the John." I've selected sixteen classic dirty limericks, and rewritten them as haiku. Cleansed of rhyme, each haiku reveals the laconic narrative at the core. Norman Conquest's design incorporates an equally classic erotic Japanese print, showing a heteronormative couple generating children. It's suitable for the boudoir or bath, although perhaps not other places in your home. The image above shows only a portion of this lovely and explicit poster.
12 x 18 inches; printed on prime 80# UV-coated, acid-free stock.
Only $10 from Black Scat Books.
This early drawing of Popeye and Bluto shows remarkably little skill. I failed to capture many essential characteristics of the characters. I even left off Bluto's beard. I think that's Bluto. It's undated; I can only hope that I drew it when I was five, not fifteen. I still like Popeye. Maybe I should try again.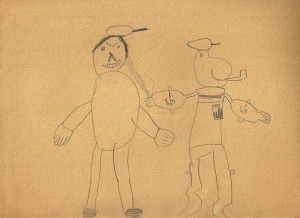 September 28th, 2015 · 1 Comment
September 21st, 2015 · 3 Comments
Although Poe's poem "The Raven" is a nice piece of work, it is rather insistent with its rhymes. Therefore, I've removed them for your reading pleasure. I've fixed the whole poem, but I'll post only the first two stanzas.
THE RAVEN UNRHYMED
Once upon a midnight gloomy, while I pondered, weak and sleepy,
Over many a quaint and curious volume of forgotten myth —
While I nodded, nearly dozing, suddenly there came a knocking,
As of some one gently beating, at the entrance to my room.
"'Tis some visitor," I muttered, "at the entrance to my room —
Only this and nothing else."
Ah, distinctly I recall that it was in the bleak October;
And each separate dying cinder wrought its ghost upon the ground.
Eagerly I wished for Monday; — vainly I had sought to pilfer
From my books surcease of sadness — sadness for the lost Louise—
For the rare and radiant maiden whom the angels name Louise —
Nameless here eternally.