January 19th, 2015 · 2 Comments
January 12th, 2015 · 2 Comments
Every year, I do a show around my birthday (January 7th). This year, I turned 60, and celebrated the aging at Brooklyn's Jalopy Theater on January 10. Doug Roesch and Ralph Hamperian joined me, on guitar and tuba respectively. We played a program of my songs and instrumental music, with a couple of covers.
I'm Still Bitter
Oh Dear, Oh Dear
How Pleasant to Know Mr. Skinner
Love Me Unconditionally
A Few Essential Principles
Let's Ridicule the Nightingale
Your Parents
James
Son of a Gun
Peepee Caca Fucky Fuck
Bread and Honey
Get on the Grid
The Workman's Friend (words by Flann O'Brien)
Film Crew
Descriptive Pieces
Waltz (from Barbara's Album)
Strike a Match in the Morning (from The Donner Party)
Stumbling Block (from The Regard of Flight)
Jackpot (from Hungry for Fun)
Bugs, Not Drugs (from White Knuckle Sandwich)
Don't Talk to Me
Poor Papa (by Billy Rose and Harry Woods)
People Like You
encore: Please Go Away and Let Me Sleep (by James T. Brymn and R. C. McPherson)
Here's my setting of Flann O'Brien's poem "The Workman's Friend," from At Swim-Two-Birds, with viola and tuba accompaniment. Stirring, I hope.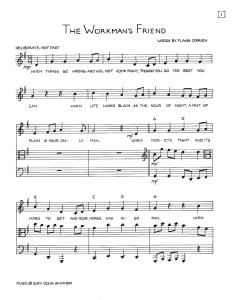 Here, if anyone's interested, is an alphabetical list of the rounds I've written.
The Animals
The Bigot
Blackwell's Isle
Captain Manning's Catch
A Christmas Song
Common Sense
Ding Dong Bell (Percy Bysshe Shelley)
Dr. Quack (verses from a card game)
Election Day (William Butler Yeats)
Fundamentalists
Give Me Clouds! (Remy de Gourmont)
Government Without Religion
Gravity
Hero, Sword, and Fame (Ambrose Bierce)
Herrick 1-4 (Robert Herrick)
Homo Sapiens
The Imponderable Pillar of Worlds (Benjamin DeCasseres)
Janus
Laughter
A Leaf (Remy de Gourmont)
A Martyr
Merdrigal (Léon-Paul Fargue, my translation)
The Moron (traditional)
Nature's Way
No Noel
People Like to Lie
Philosophy: The Last Phase (Benjamin DeCasseres)
The Pigeon
Proverbs 1-7 (traditional)
Remember Me
Time
To a Friend Whose Work Has Come to Nothing (William Butler Yeats)
To the Lions With Them! (Aleister Crowley)
Twelve
December 8th, 2014 · 2 Comments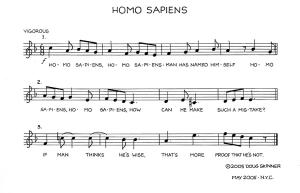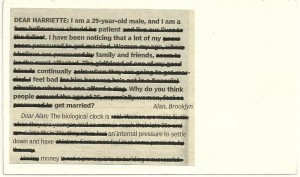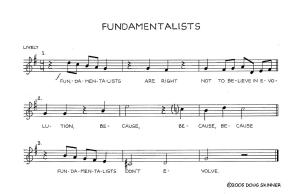 November 20th, 2014 · 2 Comments